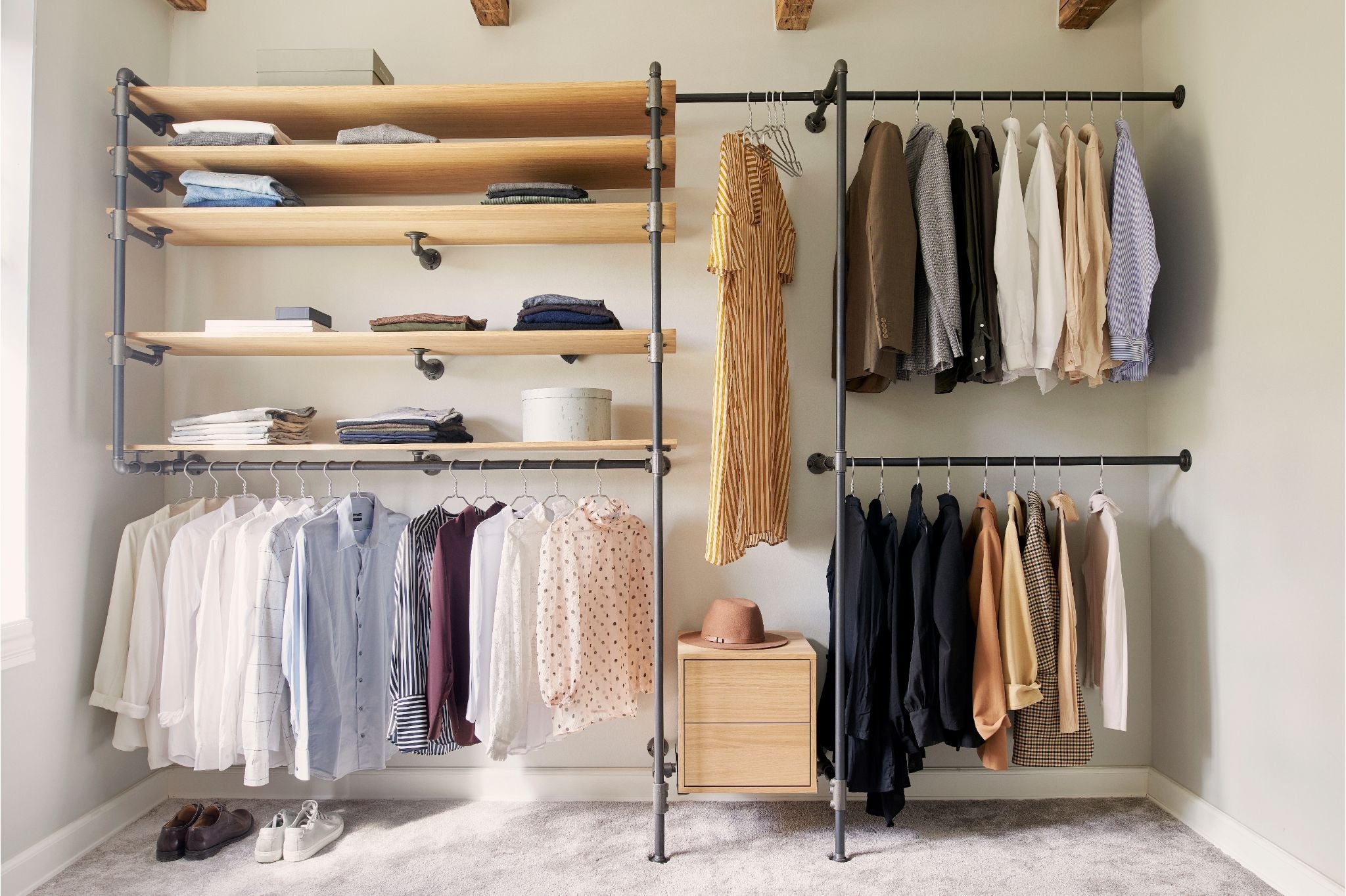 Wardrobe solutions
Looking for a space-saving wardrobe solution for your home? Or you might just be looking for wardrobe inspiration? In RackBuddy's universe, you can find personalised and custom wardrobe solutions so
... Read more
robe solutions so you can customise the design of your wardrobe to your specific requirements. Explore all of our many different wardrobe solutions on this page and find a wardrobe interior that matches your specific needs.
Showing
20
of
20
products
Smart wardrobe solutions for every need
Spruce up your home and wardrobe with a solution from RackBuddy. All smart wardrobe solutions come in the classic RackBuddy style of rustic and raw pipes, as well as natural materials such as oak and pine, to spice up your home and give your wardrobe an edge. We offer a wide range of smart wardrobe solutions, so you'll be able to find one that matches your specific needs. Looking for a wardrobe solution for the children's bedroom or for your primary bedroom? Or maybe your hallway needs a new wardrobe with plenty of space for coats, bags and shoes? At RackBuddy, anything is possible and our vision is to create solutions that create space!
Custom your wardrobe to your needs
Do you want to customise and tailor your wardrobe to suit your specific needs and requirements? At RackBuddy we work with smart wardrobe solutions and you can easily adapt and customise the wardrobe to your exact needs in terms of size, hanging space, number of shelves and drawers. So it's entirely up to you to decide how you want to design your wardrobe solution – how much shelf space you want, how many drawers you and your family need, and how much of the wardrobe you want to use for hanging clothes, bags and other items. It's completely up to you – the sky's the limit!
In addition to plenty of hanging space, many free standing clothes racks also have shelves, some at the top, some at the bottom and some with multiple shelves – so you can store shoes, hats, bags or a plant. At RackBuddy, it's easy to find a free standing wardrobe that suits your storage needs and that you can style exactly the way you want. 
Looking for a custom solution? Design your own wardrobe interior
Perhaps you already have an amazing idea for a wardrobe design? Together, let's turn your ideas into reality and create the wardrobe of your dreams. If your new wardrobe solution requires specific dimensions and space requirements, fear not! At RackBuddy, you can really let your creativity and ideas flow and we love new, exciting takes on wardrobe solutions! Simply book an appointment for a free design meeting where we can talk about your customised solution. We will work with you to create a design that suits your needs and the specific requirements of your wardrobe in terms of space, dimensions and size. 
A flexible solution
When you invest in a wardrobe interior from RackBuddy, you get a simple and flexible solution. This means that you can always change your wardrobe solution if, for example, you need more hanging space or a smaller solution if the kids have flown the nest or you've had a good tidy-up in your wardrobe. The possibilities and custom solutions are endless. Most wardrobe solutions are adjustable in height and width, and because the materials are few and unique, it's easy to add an extra element to your wardrobe. If you have questions about expanding your current wardrobe solution or if you want advice on modifying your wardrobe layout to suit your changing needs, then you are more than welcome to contact us. 
A wardrobe designed to last a lifetime
All wardrobe solutions are made from the same raw and durable materials. We believe that it is better for the planet to invest in solid and sustainable quality materials, rather than cheap solutions that need to be replaced after a few years. For example, all the iron in RackBuddy's smart wardrobe solutions is made from 100% recycled iron, while the wood is sustainably sourced from European certified forests.
With a wardrobe solution from RackBuddy, you breathe new life into your home. The rustic iron pipes, in combination with the Nordic look of oak and pine, create an aesthetic yet raw look. It also means that all designs will last for many years to come. Because you can add or remove items from your wardrobe solution, it can be adapted to any style or new home, for example, if you are moving house. You can also take a look at our wide range of beautiful clothes racks or shelving systems if you're looking for simpler elements for your wardrobe.
Wardrobe interiors with many styling options
Do you want your wardrobe to stand out from the crowd? By choosing a wardrobe solution from RackBuddy, you get both a raw design and endless styling options. For example, combine several wardrobe solutions to create a unique look, or style your wardrobe with plants or string lights. You can try out all your amazing and creative solutions and go all-in on DIY!
Deciding how you want your wardrobe to look is simple and easy. For example, you can choose between oak and pine in different shades for your shelves and chests of drawers in your wardrobe:


The oak wood is made of veneer that has been treated with UV coating, which gives the wood longer durability and hardness. If you choose oak for your wardrobe shelves and chests of drawers, you can choose between two types of UV coating: One brings out the classic oak colour, while the other gives the wood a smoky colour and hue. In addition, the UV coating protects the wood against both shocks and chemicals and is scratch- and rub-resistant, making the wood both resistant and exceptionally durable. 
The pine, on the other hand, is stained with either light or dark oil, which preserves the characteristic markings and patterns in the wood that are so beautiful and unique to each solid piece of wood. At the same time, the oil protects the wood, making it more resistant, which can be useful if you need a wardrobe solution for your hallway or kids' room that can take a lot of wear and tear.
As with the wood, you can also choose between two colours for the wardrobe iron pipes: dark or silver. This allows you to mix and match your chosen iron pipes with the wooden panels that you think will go best together and match the rest of your home. 
DIY has never been easier
When you invest in a wardrobe solution from RackBuddy, all materials are sent to you in loose parts that you assemble yourself. But don't worry – it's incredibly easy! Of course, your new wardrobe solution comes with a detailed manual that describes exactly how to assemble it. The package also includes all the tools you need such as screws and universal plugs, so you can get started right away. If you choose a wall-mounted wardrobe solution, be aware of whether the wall plugs provided are suitable for the material the wall is made of. In some cases, special wall plugs suitable for specific wall materials may be needed. If you have any questions, you are always welcome to contact us so that together we can find the best solution for you.